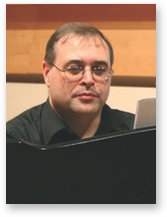 Head of Accompaniment
BMus, MusM(Perf), PhD, PGDipRNCM
Email: [email protected]
Head of Accompaniment – Tutor in piano accompaniment, Staff Pianist Co-ordinator and Staff Pianist
Deputy Director (Performance) and Senior Accompanist, Junior RNCM
Academic lecturer and supervisor
David Jones was born on the Wirral and graduated from the University of Wales, Bangor, with a First Class Honours Degree in Music, specialising in performance and studying piano with Jana Frenklova. He subsequently graduated from the Royal Northern College of Music, Manchester, with a Postgraduate Diploma in Piano Accompaniment, which he studied with John Wilson, and the degree of Master of Music in Performance for which he also submitted a study of the songs of Albert Roussel. After a year as Junior Fellow in Repetiteur Studies in the RNCM Opera Department, David lectured for three years at University College, Salford. He joined the staff of the School of Keyboard Studies at the RNCM in 1996 and was appointed Accompaniment Co-ordinator, now Head of Accompaniment, in September 2001. He also holds the posts of Deputy Director and Senior Accompanist for Junior RNCM. He was chorus master of the RNCM Chamber Choir for four years. David lectures in aspects of French music including mélodie and opera, and has supervised three PhD students to successful completion on theses about French and British music of the nineteenth and twentieth centuries.
Current and Future Research
Editorial work for Cathedral Press on Jeffrey Lewis: Sacred Chants (published 2013) together with video interviews with the composer for the Cathedral Press website: see http://www.youtube.com/watch?v=9fJkMrzbnno and http://www.youtube.com/watch?v=2viH00Aefpg
Recent Recordings:
Robin Stevens: Music for Double Bass and Piano (Metier/ Divine Art for release in 2023)
Robin Stevens: Music for Cello and Piano (Metier/ Divine Art, 2021)
Robin Stevens: Prevailing Winds (Metier/ Divine Art, 2020)
Judith Bingham: Piano Music (Toccata Classics, 2013)
Philip Spratley: Choral Music (Prima Facie, 2011)
Jeffrey Lewis: Piano and Chamber Music (Metier/Divine Art, 2009)
John Ramsden Williamson: Chamber Music (Dunelm, 2007)
John Ramsden Williamson: Songs (Dunelm, 2007)
Jeffrey Lewis: Piano and Chamber Music (Campion, 2005)
Stephen Plews: Piano Music (Campion, 2005)
Jeffrey Lewis: Piano and Chamber Music (ASC, 2001)
Undergraduate Teaching
Undergraduate elective on mélodie – The mélodie from Berlioz to Boulez.
Undergraduate elective on French opera in the 19th and 20th centuries.
Coaching in accompaniment (duo sonatas and song repertoire)
Postgraduate Teaching
Principal study Accompaniment tutor.
Coaching in accompaniment (duo sonatas and song repertoire)
Research Supervision
Completed research degrees:
Harvey Davies – The Chamber Music of Arnold Cooke (2nd supervisor) – 2022
Maria Stratigou – The Etudes of Louise Farrenc (2nd supervisor) – 2021
Simon Callaghan – The Music of Roger Sacheverell Coke (primary supervisor) – 2020
Current supervision:
Faith Thompson – Gabriel Pierné (2nd supervisor)
Publications
Journal Articles

''A glimpse of infinity: time and stillness in the music of Jeffrey Lewis',', The Musical Times,, cxlv (2004), 65 – 74..

Scholarly Editions

Jeffrey Lewis, Editorial introduction to Jeffrey Lewis: Sacred Chants, 2013, Cathedral Press, Bangor

Recordings

Judith Bingham Piano Music, David Jones Piano, Toccata Classics, London, 2009
John Ramsden Williamson Lads of Love and Sorrow, Mark Rowlinson, Baritone, David Jones, Piano Voice and Piano, Dunelm/ Divine Art, Doddington, 2006
Jeffrey Lewis Silence of the Night, Sophie Mather, violin, Hester Chapman, cello, William Stafford, clarinet, James Faulkner, bass guitar, Ian Tate, piano, Daniel Jones and Toby Kearney, percussion, David Jones, Caroline MacPhie, soprano. Zheng-Yu Wu, violin. David Jones, piano Piano; violin and piano, soprano and piano, ensemble, Metier/Divine Art, Doddington, 2007
Interview with Jeffrey Lewis, Jeffrey Lewis, David Jones , Cathdedral Press/ RSCM via YouTube, 2012
Professional Activity
As well as his work at the College, David is also pianist for the Hallé Choir, and founder and Musical Director of Altèri, the Manchester-based chamber choir. He also held the post of pianist for Huddersfield Choral Society between 1993 and 2001. For many years he has been, with April Cantelo, Stuart Smith, Rosemary Walton and Patricia MacMahon, a tutor on the summer course Art of Song, and in the summer of 2022 worked alongside Sir John Tomlinson and Matthew Jocelyn on the course Operatic Shakespeare, at Musikvilla Untersberg, Grossgmain, near Salzburg. He was a member of the examiners' panel for the ABRSM between 2005 and 2019, examining both in the UK and in the Far East. He has given first performances of works by David Ellis, Robert Hanson, John Hawkins, Alan Lees, Peter Hope, Mark Simpson and Emily Howard, and in 2001 he released a disc of piano and chamber works by Jeffrey Lewis on the ASC label. A disc including piano music by Stephen Plews has been released on Campion Cameo, two discs of songs and chamber works by John Ramsden Williamson have been released by Dunelm, and a CD of Judith Bingham's complete piano music was released on Toccata Classics in 2013. He has recently contributed to a disc of chamber music by Robin Stevens to be released on Divine Art. A second disc of music by Jeffrey Lewis, released on the Campion Cameo label, was described by Gramophone as '…a disc not to be missed by anyone who cares about communicative 20th-century music.' A third disc in the series was released by Metier/Divine Art in spring 2009, on which he collaborates with soprano Caroline MacPhie and violinist Zheng Yu Wu. He completed his PhD at the University of Manchester in 2011, researching Jeffrey Lewis's music.