Student stories | RNCM Popular Music Summer School
We caught up with Popular Music students Phoebe Rowe and Tom Knight about their experiences at the inaugural RNCM Popular Music Summer School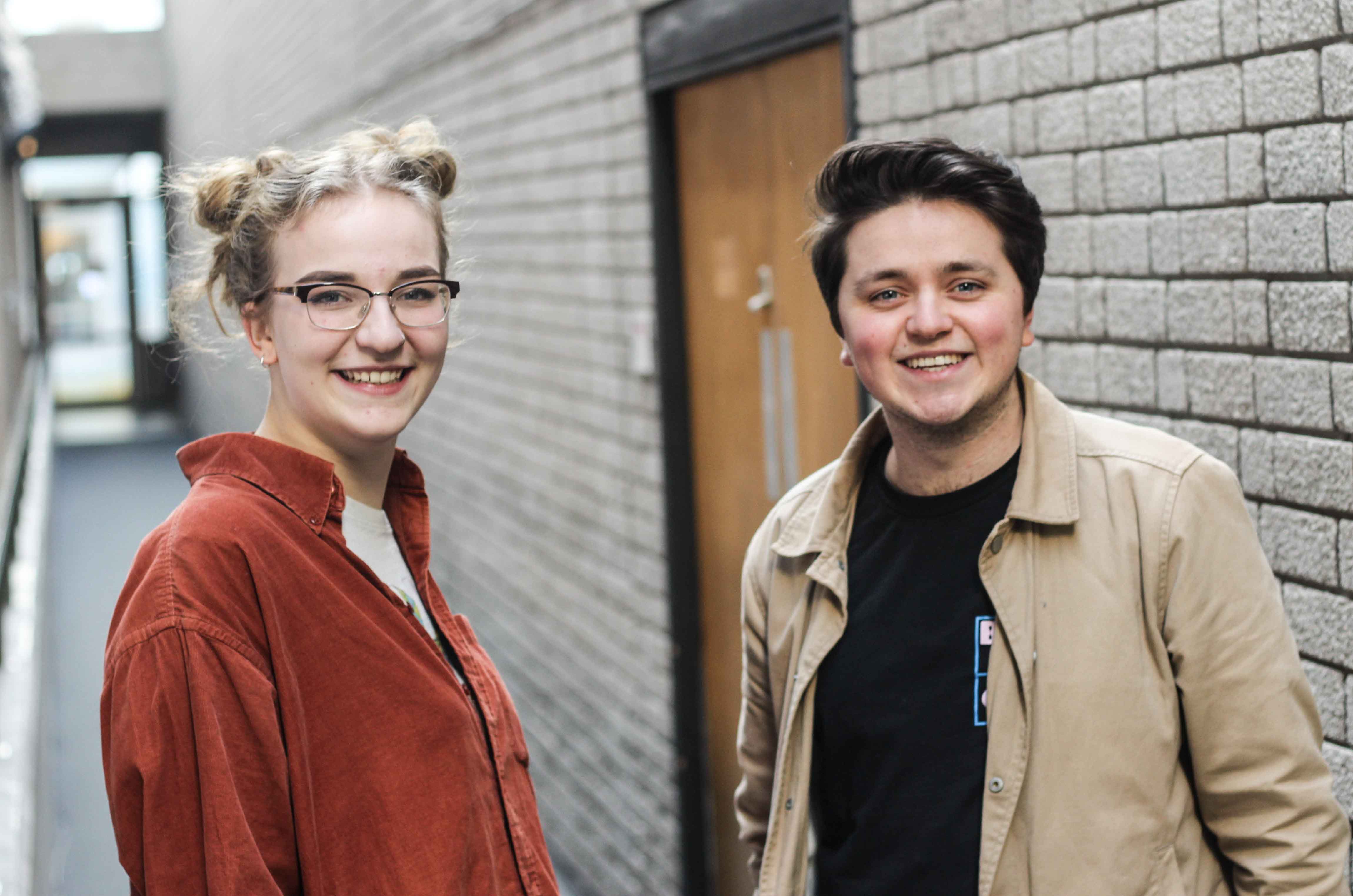 You both took part in the RNCM Popular Music Summer School in 2015. How was the experience?
Phoebe: Yeah, it was one of the best experiences of my life. It sounds really cheesy but it's the truth.
Tom: Yeah, I agree. It was one of the best experiences of my life as well.
P: It was amazing because everyone was so similar to me. At home nobody's that into music, and it was great to go to summer school and meet all these people who knew all of the bands that I liked; that I listened to. I never thought it would be like that.
T: Yeah, I got to the summer school and immediately had something in common with everyone; we all started getting on right away. After only three days it felt like I'd made some of the strongest friendships of my life.
How was the summer school structured?
P: They put us all in bands with students at the College and told us, 'Learn these four songs ready for the summer school.' We were mixed up, so I came with two of my friends from home but we were all put in different bands.
T: We saw performances from College students which was mind-blowing and really impressive. The standard was so high. Then we went to Revolution on Oxford Road, they'd booked the function room upstairs. They called up our names and we'd all decide on a song to play on the spot.
P: That was scary, I'd played in bands at home but I'd never gone up on an open mic and done it. And with people we'd just met that day. It was terrifying but also so nice because everyone was so supportive. We were working with fourth year students who knew exactly what they were doing and helping us and suggesting things.
T: We also had a musicianship lecture where we had to improvise a bit and step out of our comfort zone using modes. It was interesting to learn more about theory and get an idea of the side of College that isn't performance-based.
P: There were also practice auditions, where we had to prepare two songs to perform on our own to a mock panel. We got feedback so that was really useful. And we had a 90-minute lesson from the principal study teacher, which gave us an idea of how our lessons would be in the undergrad course for those of us who wanted to study here.
What was your favourite part of summer school?
T: My favourite part was getting a taste of College. I didn't know what to expect from a music college, because of all of my friends at A Levels were applying for normal universities. It made me realise how much I wanted to come study at the RNCM and it gave me a clear direction to follow.
P: My favourite part was working with the band. I'd always been in the same band since I was 16 until I got to college, so I'd only ever played with those people. Coming here and playing with a whole load of new people who were more experienced than me was really inspiring. It was a massive shock but in a good way. It made me realise that I need to play with other people to learn more, so yeah, I definitely enjoyed that part of summer school the most. The other things were good too; we had a vocal workshop on the first day, so you heard all the other singers and learned how to warm up properly. That was interesting.
What did you get out of the experience?
T: I'd previously auditioned at the RNCM and didn't get in. Then I went off to summer school and found out more about the audition process and what the panel was looking for. That gave me the tools to come back to the audition in December and be better prepared.
P: Yeah, going to summer school really lowered my nerves for my RNCM audition. I went into the audition and Andy Stott, Head of Popular Music, was like, 'Oh Phoebe nice to see you again, how've you been since I last saw you?' That just completely calmed me down.
T: There were also people I met at summer school that I spoke to almost every day after it ended till we got to College. We had a big group chat on Facebook and we all stayed in touch and we're all great friends now because of that. Going to summer school gave me a drive to do better and to get accepted at the RNCM, so I could study with the amazing people I'd met. And now we can see each other almost every day; it's something I always dreamed of.
P: Yeah, it was great meeting quite a lot of people at the summer school that then came on to study at the RNCM, so when we arrived in Freshers Week we already knew a bunch of people. Everyone else was like, 'Oh I wish we'd come to summer school,' because we already had this established group of friends before arriving.
To find out more about the RNCM Popular Music Summer School and how to apply click here.
3 May 2018